The Definitive Guide to Hair Transplants: Unveiling Jimmy Carr's Transformation
The world has always been fascinated by the transformations of celebrities and public figures. In this realm, Jimmy Carr's hair transplant has been a topic of intense discussion, admiration, and intrigue.
In this comprehensive guide, we aim to dissect everything you need to know about Jimmy Carr's hair transplant journey. We will cover the type of procedure he underwent, why it has been so successful, and how it can serve as an excellent reference point for those considering a hair transplant themselves.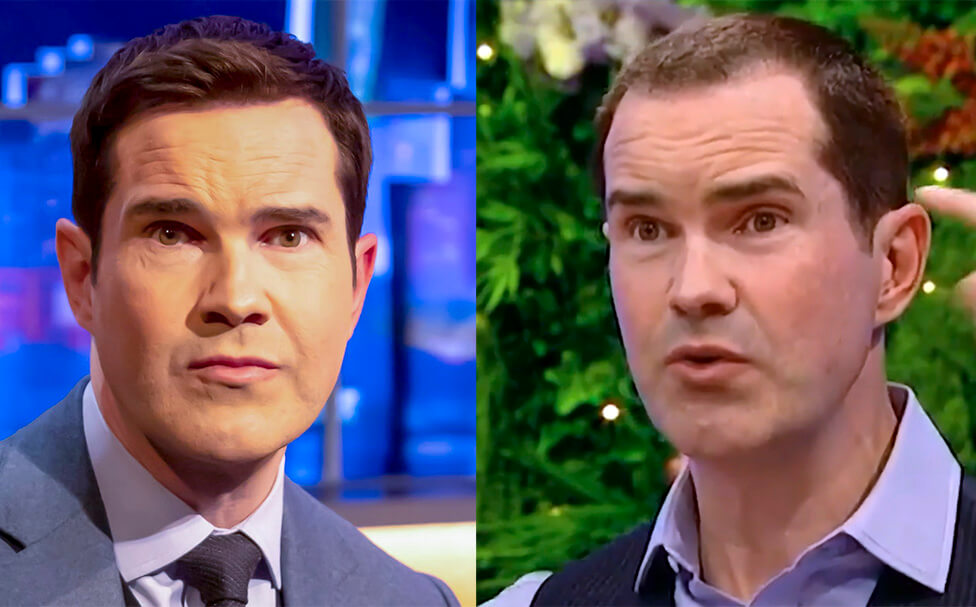 Jimmy Carr's Hair Transplant
Jimmy Carr, a renowned comedian and television host, surprised the world when he unveiled his hair transplant in 2021. Carr underwent a follicular unit extraction (FUE) procedure, a state-of-the-art hair transplant technique that involves the removal of individual hair follicles from the donor area (usually the back of the head) and implanting them into the recipient area (typically the hairline or crown of the head). The result? A fuller, denser head of hair that suits his public persona and bolsters his confidence.
The Follicular Unit Extraction (FUE) Technique
The FUE technique that Jimmy Carr opted for is a minimally invasive method preferred by many due to its numerous benefits:
Minimal Scarring: The procedure leaves virtually unnoticeable scars, making it possible to wear your hair short post-surgery.
Natural-Looking Results: Individual hair follicle implantation replicates natural hair growth patterns, ensuring an indistinguishable, authentic finish.
Quick Recovery: As there's no linear scar, healing time is generally faster compared to other methods.

Why Was Jimmy Carr's Hair Transplant a Success?
Jimmy Carr's hair transplant success can be attributed to the expert craftsmanship of his surgeon, his suitable candidacy for the FUE procedure, and his diligent aftercare. Let's dive into each factor:
Expert Craftsmanship
The skill and experience of the surgeon play a crucial role in the outcome of a hair transplant. The ability to precisely implant individual hair follicles while preserving the natural hair growth pattern is an art that requires significant expertise.
Suitable Candidacy
Jimmy Carr was an ideal candidate for the FUE technique. He had a stable donor area (the back and sides of the scalp) and realistic expectations about the results.
Diligent Aftercare
Post-surgery aftercare, including following the surgeon's instructions and maintaining a healthy lifestyle, contributes significantly to the success of the hair transplant. Carr adhered to these aspects meticulously, aiding in the positive outcome of his procedure.
Decoding Jimmy Carr's Post-Procedure Journey
Jimmy Carr's post-procedure journey offers essential lessons to those considering a hair transplant. It's critical to understand that hair growth post-transplant occurs gradually, with noticeable results typically emerging after 6-12 months. Moreover, maintaining a healthy lifestyle and following your surgeon's aftercare instructions are pivotal for long-term success.
Jimmy Carr: Before and After Hair Transplantation
The hair transplant journey of Jimmy Carr is a tale of transformation that has caught the world's attention. His striking change in appearance has sparked conversations about the effectiveness of hair transplant procedures and their potential to enhance self-confidence.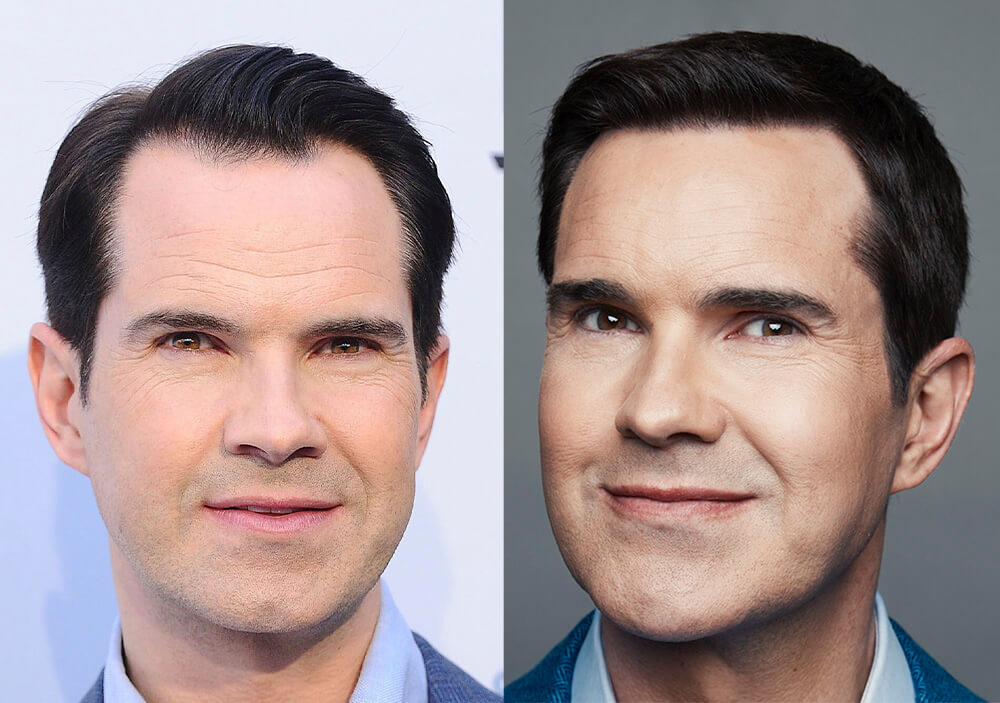 Jimmy Carr Before the Hair Transplant
Prior to his hair transplant, Jimmy Carr had visibly receding hairline and thinning hair, a common concern for many men as they age. His appearance on television and public events clearly showcased his hair loss situation, making it a topic of discussion among fans and media.
As a public figure, Jimmy Carr's receding hairline was noticeable to all. This not only affected his appearance but also his self-confidence. Like many individuals facing hair loss, the decision to undergo a hair transplant likely came after much thought, research, and consultation.
Jimmy Carr After the Hair Transplant
Post-hair transplant, the transformation in Jimmy Carr's appearance was astonishing. His fuller, denser hairline gave him a youthful look and significantly boosted his confidence. The FUE procedure resulted in a natural-looking hairline, difficult to distinguish from naturally grown hair.
Jimmy Carr's new look came as a surprise to many fans and viewers when he first appeared on television after his surgery. The impressive results served to alleviate the stigma associated with hair transplants, demonstrating their potential to transform lives.
However, it's important to note that the "after" in Jimmy Carr's hair transplant story didn't occur immediately. Like all hair transplant recipients, Jimmy Carr had to wait several months to see the full effects of the procedure. His patience and diligence in aftercare significantly contributed to his successful outcome.
Through Jimmy Carr's before and after hair transplant journey, we can observe the impressive transformation made possible by modern hair transplant techniques. His journey serves as an inspiring testament to the power of hair transplants in enhancing appearance and self-confidence.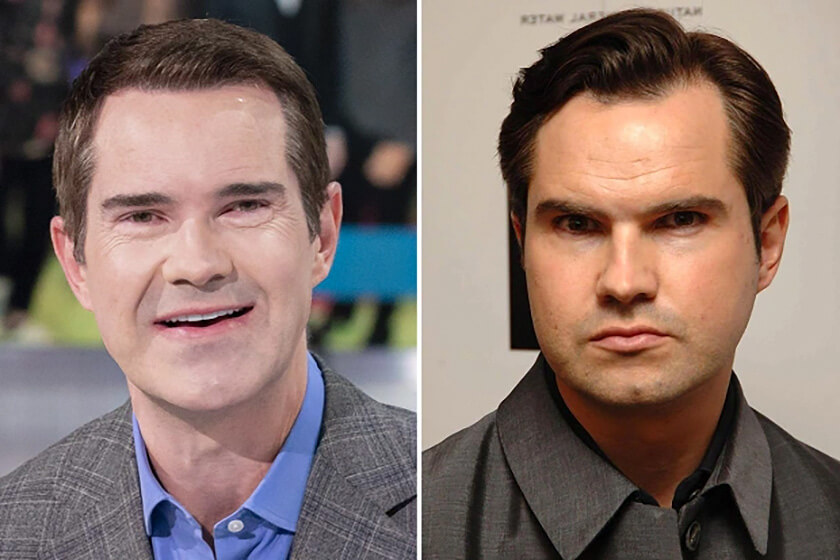 Embracing Hair Transplant as a Path to Confidence
By understanding the intricate details of Jimmy Carr's hair transplant, we can better appreciate the transformative power of such procedures. Today, hair transplants aren't just about restoring hair; they're about restoring confidence, improving self-esteem, and positively impacting quality of life. Jimmy Carr's hair transplant journey serves as an inspiring testament to this transformative potential.
Whether you're intrigued by the science of hair transplants or considering one yourself, we hope this comprehensive
FUE vs FUT: Which is Better?
While Jimmy Carr opted for the FUE technique, it's crucial to understand that each hair transplant procedure has its own merits. A comparative analysis between Follicular Unit Extraction (FUE) and Follicular Unit Transplantation (FUT) will provide more clarity to readers considering a hair transplant:
FUE: This technique, as mentioned earlier, involves harvesting individual hair follicles from the donor area and transplanting them to the recipient area. It's known for less scarring and quicker recovery time.
FUT: FUT, or strip harvesting, involves removing a strip of the scalp from the donor area, dissecting it into individual follicular units, and transplanting these units to the recipient area. While it may leave a more noticeable scar, it typically allows for a higher yield of hair follicles.
It's essential to note that the choice between FUE and FUT should be made in consultation with a qualified surgeon who can assess your unique situation and guide you to the procedure that best suits your needs.
Celebrity Hair Transplant Success Stories
Jimmy Carr isn't the only celebrity who's opened up about hair transplant experiences. Highlighting other success stories will provide readers with more references and reassure them about the effectiveness of hair transplant procedures. We can feature celebrities such as Wayne Rooney, Matthew McConaughey, Elon Musk, and Rob Holding, detailing their hair transplant journeys and outcomes.
Debunking Common Hair Transplant Myths
There are several misconceptions about hair transplants that can deter potential candidates. By debunking these myths, we can help readers make informed decisions:
Myth: Hair transplants are painful.
Fact: Hair transplant procedures are performed under local anesthesia, minimizing discomfort.
Myth: Hair transplants aren't suitable for older people.
Fact: Age is not a significant factor; the patient's overall health and hair condition matters more.