Hair Loss Prevention
Do you have a receding hairline? Do you see more hair in your brush than usual? Hair loss is a common issue that many people face, but it doesn't have to be permanent. There are several things you can do to prevent hair loss and even regrow lost hair.
In this article, we will explore 22 Ways to Get your Hair Back. From dietary changes to supplements and topicals, there are plenty of options available to help you keep your hair.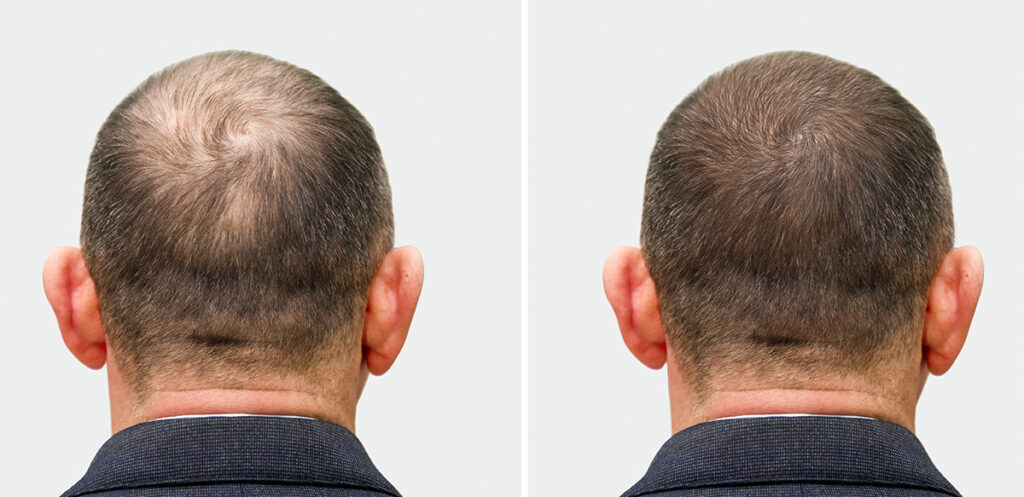 Diet
1. Mediterranean diet
The Mediterranean diet has long been revered for its health benefits, and recent studies have shown that it may also be beneficial for preventing hair loss. The diet is rich in healthy fats, antioxidants, and anti-inflammatory nutrients, all of which are essential for maintaining a healthy scalp and preventing hair loss. In addition to eating a healthy diet, you can also use olive oil as a natural hair treatment. Simply massage a few drops into your scalp and leave it on for 30 minutes before shampooing.
2. Protein
When it comes to hair loss prevention, one of the most important things you can do is make sure you're getting enough protein. Protein is essential for healthy hair growth, so if your diet is lacking in this nutrient, it could be contributing to your hair loss. Include protein-rich foods like meats, eggs, fish, and beans in your diet, or take a protein supplement to ensure you're getting enough of this vital nutrient.
3. Vitamin A
Vitamin A is a nutrient that helps to keep the scalp healthy. When the scalp is healthy, it is able to produce hair more efficiently. There are many foods that contain vitamin A, such as carrots, sweet potatoes, and dark leafy greens. You can also take a supplement if you feel that you are not getting enough from your diet.
Supplements
4. Multivitamin
Multivitamins are an important part of hair loss prevention. They can help to keep your hair healthy and prevent deficiencies that can lead to hair loss. There are many different types of multivitamins on the market, so it is important to choose one that is right for you. Talk to your doctor or a registered dietitian to determine which type of multivitamin is best for you.
5. Vitamin D
Vitamin D is an essential nutrient for hair growth. It helps the body absorb calcium, which is necessary for healthy hair follicles. A lack of vitamin D can lead to hair loss.
There are several ways to get vitamin D. The best way is to spend time in the sun. The body produces vitamin D when exposed to sunlight. However, many people don't get enough sun exposure and need to take supplements. Supplements are available in both pill and liquid form.
Vitamin D is also found in food sources such as fatty fish, eggs, and fortified dairy products. Adding these foods to your diet can help increase your vitamin D intake.
6. Biotin
Biotin is a water-soluble vitamin that is found in small amounts in a variety of foods. It's also available as a supplement, typically in the form of capsules or tablets.
Biotin is important for the health of your hair, skin, and nails. It plays a role in the production of keratin, a protein that makes up these structures.
A deficiency of biotin can lead to hair loss, skin rashes, and brittle nails. Although biotin insufficiency is unusual, it may occur if you don't get enough of this vitamin from your diet or if your body has trouble absorbing it.
Fortunately, biotin supplements are an effective way to prevent or treat a deficiency. They're also often used as a cosmetic treatment to improve the health and appearance of hair, skin, and nails.
7. Saw palmetto
Saw palmetto is a popular herbal remedy for hair loss. It is thought to work by inhibiting the production of DHT, a hormone that plays a role in hair loss. Anecdotal evidence suggests that saw palmetto may be effective in preventing or treating hair loss. However, there is no scientific evidence to support these claims.
8. Ginseng
When it comes to hair loss prevention, ginseng is one of the most popular herbs. Ginseng is thought to improve circulation and help deliver nutrients to the hair follicles, which can promote hair growth. It can also be helpful in preventing hair loss by reducing stress levels. There are many different ways to take ginseng, including teas, capsules, and powders.
Hair care
9. Regular washing
It is no secret that one of the best ways to prevent hair loss is by regularly washing your hair. This is because dirt, oil, and other buildup on your scalp can clog pores and lead to follicle damage, which in turn can cause hair loss.
10. Coconut oil
Coconut oil is one of the best oils for preventing hair loss. It has been shown to improve hair health and prevent hair loss in both men and women. Coconut oil is rich in essential nutrients that are necessary for healthy hair growth. These nutrients include vitamins E and K, minerals such as iron and zinc, and essential fatty acids. Coconut oil also has antimicrobial properties that can help to keep your scalp healthy and free from infections that can cause hair loss.
11. Olive oil
There are many benefits to using olive oil for hair loss prevention. Olive oil is full of nutrients that can help to keep your scalp healthy and your hair strong. It can also help to stimulate new growth. Here are some ways to use olive oil for hair loss prevention:
Massage olive oil into your scalp. This will help to improve circulation and promote healthy hair growth.
Apply a few drops of olive oil to your hair before shampooing. This will help to protect your hair from the harsh chemicals in shampoo and keep it hydrated.
Add a few drops of olive oil to your conditioner. This will help to nourish your hair and prevent breakage.
Use a mixture of olive oil and water as a natural detangler. This will help to prevent damage when brushing your hair and make it easier to style.
12. Gentle styling
If you're looking to prevent hair loss or even just get your hair back, there are a few things you can do. First and foremost, be gentle with your hair. This means avoiding harsh styling techniques like tight braids, hot rollers, and perms. If you use heat to style your hair, make sure to use a heat protectant. Second, don't over-wash your hair. Washing too often can strip your hair of its natural oils and make it more prone to breakage. Third, try not to use harsh chemicals in your hair. This includes bleach, colorants, and straighteners. If you must use them, be sure to deep condition your hair afterward to help repair any damage. Lastly, eat a balanced diet and take supplements if needed. Getting the right nutrients is essential for healthy hair growth.
13. Hair processing
Processing your hair correctly can help to prevent breakage, which is one of the leading causes of hair loss. There are a few different ways you can process your hair:
Use mild shampoo and conditioner. Shampoos and conditioners that are too harsh can strip your hair of its natural oils, leading to dryness and breakage. Instead, opt for products that are specifically designed for sensitive scalps or color-treated hair.
Avoid hot tools whenever possible. Heat styling tools such as curling irons and flat irons can damage your hair, making it more susceptible to breakage. If you do use hot tools, be sure to use a heat-protectant product beforehand.
Don't overprocess your hair. When coloring or chemically treating your hair, it's important not to overdo it. Stick to the recommended time frame for each treatment, and be sure to use a deep conditioning treatment afterward to help repair any damage that may have been done.
Medical treatments
14. Laser therapy
Laser therapy is a popular treatment for hair loss. It uses low-level lasers to stimulate hair growth and help prevent further hair loss. Laser therapy is usually done in a series of treatments, and each treatment lasts about 30 minutes.
15. Platelet-rich plasma
Platelet-rich plasma (PRP) is a concentration of platelets and growth factors that can be derived from your own blood. PRP has been used in other medical specialties for over a decade to promote healing. Injecting PRP into the scalp can stimulate hair growth and prevent hair loss.
PRP is thought to work by stimulating the stem cells in the hair follicle. The platelets release growth factors that promote cell proliferation. This leads to an increase in the production of new hair follicles and thicker, fuller hair.
PRP treatment for hair loss is still considered experimental. However, there is some promising research showing that it may be effective in treating both male and female pattern baldness. A small study published in 2016 found that PRP injections improved hair density and thickness in men with male pattern baldness.
16. Hair Transplant
A hair transplant is a surgical procedure in which a surgeon moves hair from one part of the body to another. It is most commonly used to treat male pattern baldness. Hair follicle grafts that are genetically immune to balding are implanted in the bald scalp to treat this problem.
Hair transplants are usually done under local anesthesia. A surgeon makes tiny incisions in the skin at the back of the head, where the hair is thickest. Then, he or she carefully removes some of the donor hair follicles and transplants them into the incisions in the recipient area.
After a hair transplant, it takes about three months for new hair to begin growing. The results are usually permanent. However, you may need additional surgery if you lose more hair in the future.
17. Finasteride
Finasteride is a prescription medication used to treat hair loss in men. It is the active ingredient in the brand-name drugs Proscar and Propecia. Finasteride was first approved by the FDA in 1997 for the treatment of enlarged prostate glands. In 2011, the FDA approved finasteride for the treatment of male pattern baldness.
It works by blocking the production of a hormone called DHT (dihydrotestosterone). DHT is thought to contribute to hair loss by causing the miniaturization of hair follicles. This means that the hair produced by each follicle is progressively thinner and shorter. By inhibiting the production of DHT, finasteride can help prevent or slow down hair loss.
18. Phenylephrine
Phenylephrine is a medication that is used to treat low blood pressure and congestion. It is a vasoconstrictor, which means it narrows the blood vessels. Phenylephrine can be found in over-the-counter medications, such as Sudafed, and is also used as an injection.
When phenylephrine is used as an injection, it is injected into a vein or muscle. The injections are usually given by a healthcare provider in a hospital setting.
Phenylephrine has few side effects when used as directed. The most common side effect is dizziness. Other less common side effects include headache, anxiety, and nervousness.
Other Methods
19. Essential oils
Essential oils are believed to be beneficial for hair loss prevention because they can improve circulation, nourish the scalp, and unclog hair follicles. They may also help reduce stress, which can contribute to hair loss.
The most effective essential oils for hair loss prevention include rosemary, lavender, peppermint, and cedarwood. To use these oils, add a few drops to your shampoo or conditioner, or massage them into your scalp. You can also diffuse them into the air using a diffuser.
20. Onion juice
Onion juice is an effective home remedy for hair loss. Onion is a rich source of sulfur which helps in the production of collagen in the tissues. It also has anti-bacterial properties, which can help in preventing scalp infections that can lead to hair loss. You can apply onion juice directly on the scalp or mix it with olive oil or honey and apply it on the scalp. Leave it for 30 minutes, and then wash it off with mild shampoo. Do this twice a week for the best results.
21. Massage
There are many different types of massage, but all aim to provide relaxation and promote healing. Massage can be used to prevent hair loss by stimulating the scalp and improving circulation. It can also help to reduce stress, which is one of the main causes of hair loss.
22. Yoga
Yoga has been shown to be an effective way to prevent hair loss. A study published in the International Journal of Trichology found that yoga can help to improve blood circulation to the scalp, which can prevent hair loss. Yoga can also help to reduce stress, which is a common cause of hair loss.
Reach Us For Hair Transplant Solutions
Remember, it only takes 10 seconds to fill out our online form, or you can reach out to us through the contact channels provided earlier in this article. Let Haista Clinic be your partner in transforming your life and boosting your self-esteem through our exceptional hair transplant services.
Don't let hair loss hold you back any longer. Trust Haista Clinic's expertise and experience to provide you with a world-class hair transplant in Turkey. Contact us today to schedule your free consultation and embark on your hair restoration journey!