Discover why Turkey is rapidly becoming the go-to destination for affordable, quality hair transplants. Uncover the hair transplant cost in Turkey.
Hair Transplant Costs in Turkey: An Overview
Let's face it, hair is a big deal. It's one of the first things people notice about us, and a full, lush mane can do wonders for our self-confidence. But what happens when that hair starts to thin or, worse, disappear? That's where a hair transplant comes into play. And while many places worldwide offer this life-changing procedure, there's one place that stands out from the crowd: Turkey. Specifically, the hair transplant costs in Turkey are not just affordable; they promise quality and luxury.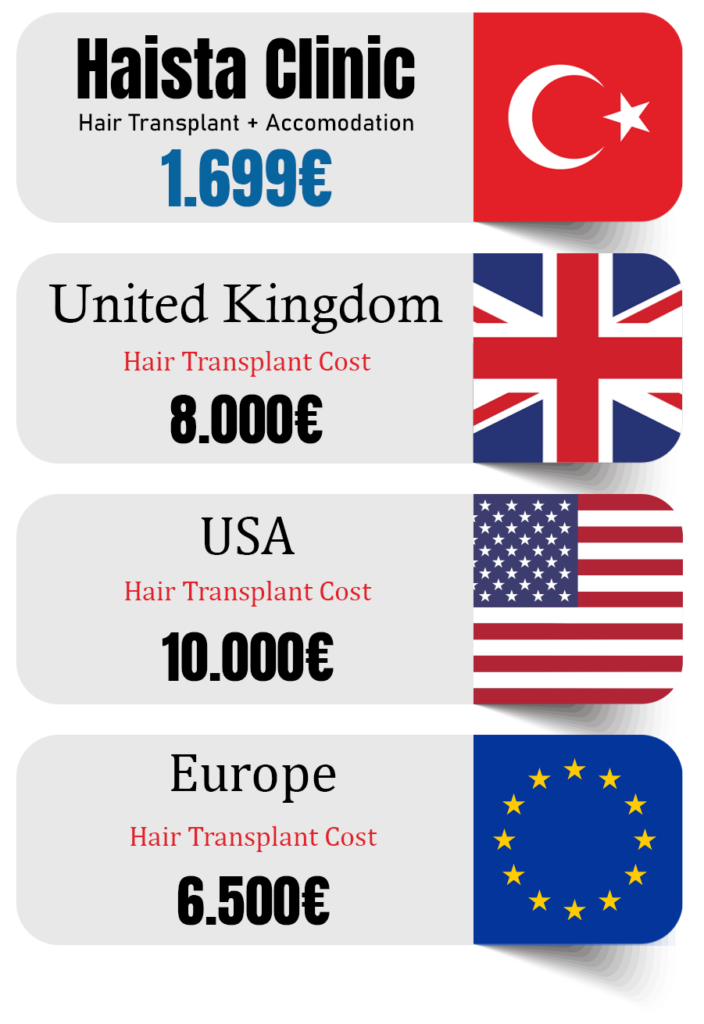 The Alluring Price Tag: A Deep Dive into Costs
You might be wondering, "How much does a hair transplant cost in Turkey?" Well, hold on to your hats! With prices ranging between 1300-2500€ for an impressive 5000 grafts or more, it's a deal that's hard to beat. But let's unpack that a bit:
Standard Procedure Costs: For a full session, which entails 5000 grafts or more, patients are typically looking at a range of 1300-2500€. It's a price that's unmatched, especially when considering the expertise that accompanies it.
Added Benefits: Often, these packages include perks like free luxury accommodation, a personal translator, and even VIP transfers. We're talking five-star treatment without the five-star price.
Comparative Prices from Other Countries: When you peek across the globe, hair transplant costs can skyrocket. For instance, in the U.S., the price can range from $10,000 to $20,000. In the UK, it's roughly between £5,000 and £12,000. Now, that's a price difference you can't ignore!
Comparing Hair Transplant Costs Globally
United States and Canada
North America, especially the U.S., has seen a rise in hair transplant procedures. However, the average cost for a hair transplant in the U.S. can be a staggering $10,000 to $20,000. In Canada, prices can range from CAD 5,000 to CAD 15,000. These prices are just base costs, often excluding post-surgery care, consultations, and other vital services.
Europe
The European market for hair transplantation has its own dynamics. Western European countries like the UK, France, and Germany can charge anywhere from €5,000 to €12,000 for a standard procedure. On the other hand, Eastern European nations are generally more affordable, but the quality can be inconsistent.
Asia
Countries like India and Thailand have emerged as popular medical tourism destinations. Here, hair transplant costs can range between $1,000 to $3,000. However, while the lower cost is attractive, it's crucial to do thorough research on the clinic and its medical professionals to ensure you're getting top-notch treatment.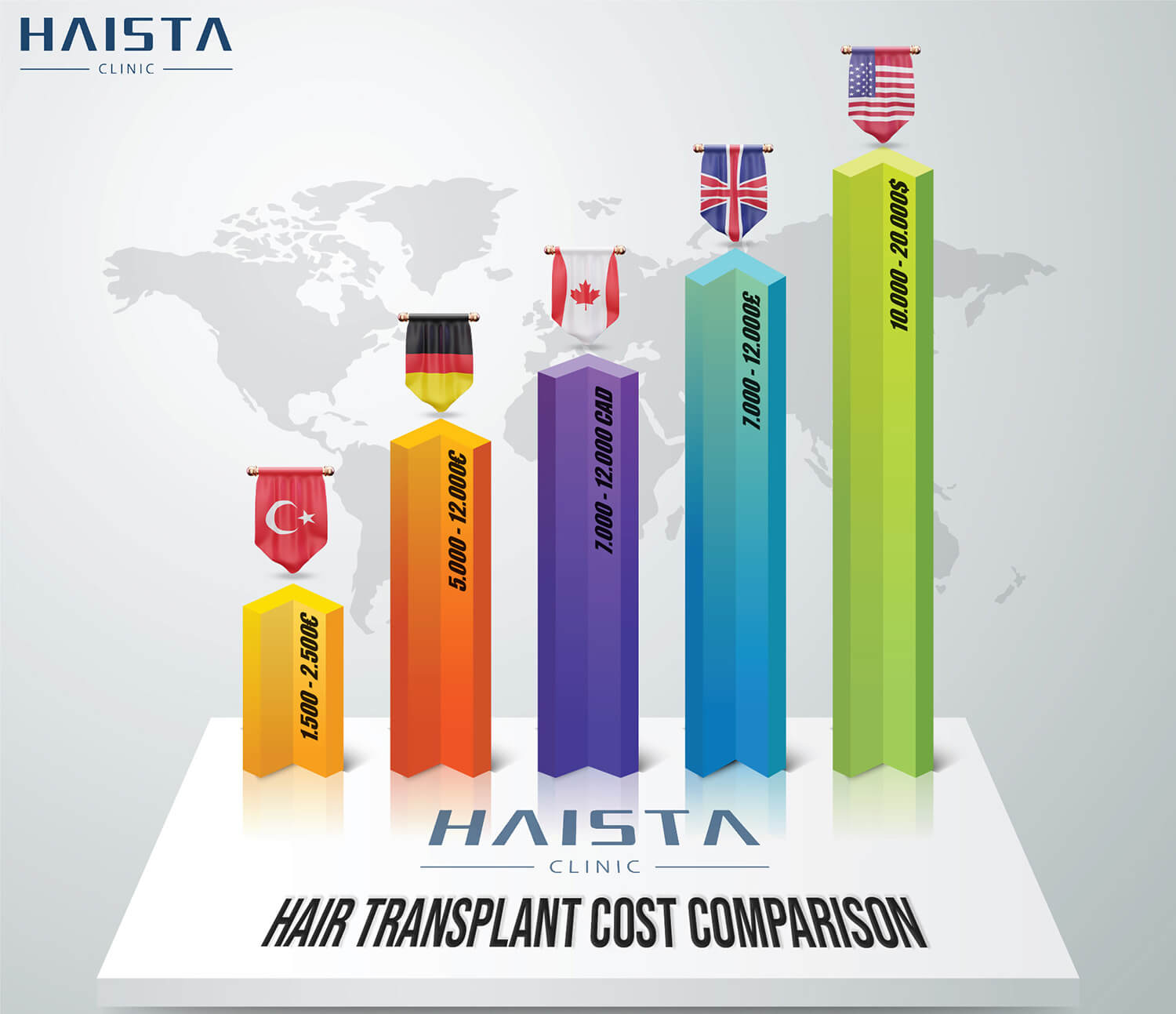 | | | |
| --- | --- | --- |
| Country | Average Hair Transplant Cost (5000 grafts or more) | Additional Benefits |
| Turkey | €1300 – €2500 | Free luxury accommodation, private translator, VIP transfers, the opportunity to explore Istanbul |
| United States | $10,000 – $20,000 | – |
| Canada | CAD 8,000 – CAD 15,000 | – |
| United Kingdom | £7,000 and £12,000 | – |
| France | €6000 – €12,000 | – |
| Germany | €5000 – €12,000 | – |
Why Turkey? Beyond the Price Point
Turkey isn't just offering affordability. There's a whole slew of reasons why patients from all corners of the earth flock to this beautiful nation:
Exceptional Medical Expertise: Turkey's doctors are world-renowned for their expertise in the field. These surgeons have honed their skills, often with decades of experience, ensuring that patients receive the best care possible.
State-of-the-Art Facilities: From modern clinics to cutting-edge technology, Turkey is at the forefront of hair transplant procedures.
Touristic Attraction: And let's not forget, having a procedure in Turkey means you also get the chance to explore Istanbul, a city steeped in rich history, culture, and unparalleled beauty. Talk about a win-win!
The Full Package: Delving into the Added Perks
Now, we've touched on this, but it's worth delving deeper. The hair transplant packages in Turkey often include:
Luxury Accommodation: Think five-star hotels with views of the Bosporus, room service, and top-notch facilities.
Personal Translator: Language barrier? What's that? With your translator by your side, communication becomes a breeze.
VIP Transfers: Travel in style with exclusive transfers to and from the airport, clinic, and hotel. No need to fret about transportation logistics.
Explore Istanbul: As you recover, you can treat yourself to the sights and sounds of Istanbul. From the majestic Hagia Sophia to the bustling Grand Bazaar, there's no end to the wonders you'll discover.
The Allure of Istanbul: More Than Just a Hair Transplant
Istanbul's Beauty and Historical Significance
Every corner of Istanbul tells a tale. Situated at the crossroads of Asia and Europe, the city offers a unique blend of the modern and ancient world. While you're in town for your procedure, you might as well soak in the mesmerizing Hagia Sophia, the historically rich Topkapi Palace, or the bustling Grand Bazaar. Imagine recovering from your procedure while sipping Turkish tea and gazing out at the Bosphorus!
Culinary Delights Await
And, hey, let's not forget about the Turkish cuisine. If you've never tasted authentic baklava or Turkish delight in their homeland, you're truly missing out. After the hair transplant, indulge in some of the finest kebabs, mezze, and seafood. The gastronomy scene in Istanbul is a blend of the rich flavors of the Middle East, Central Asia, and the Mediterranean, making every meal a lavish experience.
Ensuring the Best for Yourself: Tips on Picking the Right Clinic in Turkey
Check the Credentials
Before diving headfirst into a hair transplant, always verify the clinic's credentials. Look for certifications and affiliations with international medical boards or associations.
Previous Patients' Testimonials and Reviews
One of the best ways to gauge a clinic's competence is by sifting through reviews and testimonials from previous patients. If a clinic has numerous positive reviews, it's a promising sign.
Post-procedure Support
Does the clinic offer aftercare support? It's vital to ensure that the clinic provides comprehensive post-surgery assistance, guiding you through the recovery process.
FAQ
Why is Turkey a preferred destination for hair transplantation?
Turkey combines expertise, experience, and affordability. Plus, the added advantage of exploring Istanbul makes it a desirable destination for many.
How long is the recovery period after the procedure?
Typically, patients can return to their routine within 2-3 days, but some specific care instructions should be followed for the best results.
Is the hair transplant procedure painful?
With the modern techniques and equipment used in Turkey, most patients report minimal to no pain.
How long do the results of a hair transplant last?
If done correctly, the results of a hair transplant can last a lifetime. The transplanted hair might thin over time but won't completely fall out.
What's included in the hair transplant package in Turkey?
Most clinics offer a comprehensive package that includes surgery, luxury accommodation, private translator services, VIP transfers, and sometimes even tours of Istanbul.
How does the cost of hair transplants in Turkey compare to other countries?
Hair transplant costs in Turkey are considerably more affordable, often one-third or one-fourth of the prices in Western countries, without compromising on quality.
Questions You Might Be Asking
Is the quality of the procedure compromised because of the lower cost?
Absolutely not! The reduced cost is mainly due to the favorable exchange rates and the competitive nature of the market in Turkey, not a compromise in quality.
How long do I need to stay in Turkey after the procedure?
On average, patients are advised to stay for about a week, giving them ample time for post-op checks and a bit of sightseeing.
Are there any hidden costs?
While always a good idea to clarify with the clinic, most packages are all-inclusive, covering the procedure, accommodation, and often even the post-operative medications.
Can I trust the clinics in Turkey?
Yes, but as with any medical procedure, it's essential to do your homework. Look for clinics with a track record of success, read reviews, and maybe even reach out to past patients.
How soon will I see the results?
While everyone is different, most patients start to see new hair growth about three to four months post-surgery, with full results visible by the 12 to 18-month mark.
Conclusion
So, there you have it. The hair transplant costs in Turkey are not just about saving money; it's about experiencing unparalleled quality, luxury, and the adventure of a lifetime in a stunning country. If you're considering a hair transplant, Turkey might just be the place to do it. Beautiful hair and beautiful memories? Now that's what we call a deal!