We all know that our hair and scalp can be indicative of our overall health. For example, our hair may become brittle and break easily if we're not getting enough nutrients. Or, if we need to drink more water, our scalps may become dry and flaky.
But did you know that there are other, more serious health conditions that your hair and scalp can also reveal? In this blog post, we will explore what your hair & scalp say about your health and how you can use this information to improve your well-being.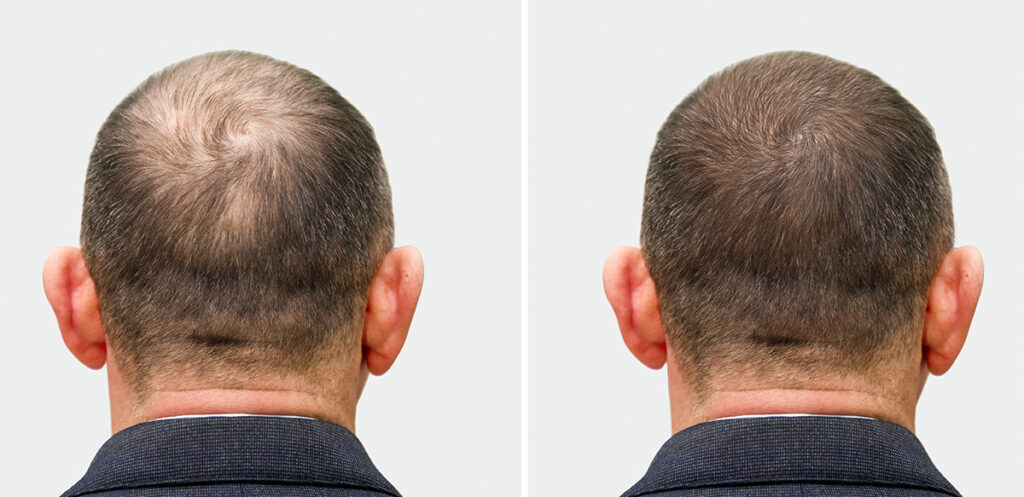 Does Bad Hair Mean Bad Health?
It's no secret that our hair can be a reflection of our overall health. If we're eating right, getting enough sleep, and managing stress, our hair will usually look and feel its best. However, if we're not taking care of ourselves, it can show up in dryness, frizziness, breakage, or even thinning.
While bad hair doesn't necessarily mean bad health, it can signify something isn't right. If you're concerned about your hair or scalp, it's always best to consult a professional. They can help you determine if an underlying issue needs to be addressed.
White Flakes Pose No Health Risk
White flakes on your scalp are nothing to worry about. They're just dead skin cells, and they're not a sign of poor health. In fact, dandruff is actually quite common, and it's nothing to be ashamed of. There are plenty of ways to get rid of it, so don't let it bother you.
Tips for Dandruff Treatment
If you're one of the millions of people who suffer from dandruff, you know how itchy and embarrassing it can be. But there's no need to suffer any longer! Here are some tips for treating your dandruff:
Use dandruff shampoo. There are many different kinds on the market, so find one that works for you and use it regularly.
Brush your hair regularly. This helps distribute the natural oils from your scalp and can prevent dandruff flakes from forming.
Avoid using styling products that contain alcohol. These can dry out your scalp and make dandruff worse.
Drink plenty of water and eat a healthy diet. This will help keep your skin and scalp hydrated, which can lessen the severity of dandruff symptoms.
See a doctor if your dandruff is severe or doesn't respond to over-the-counter treatments. You may have a more serious condition like seborrheic dermatitis or psoriasis that requires prescription medication to treat effectively.
Yellow Dandruff?
If you're seeing yellow dandruff on your head, it's most likely due to a fungal infection. This type of dandruff is called seborrheic dermatitis, and it's caused by an overgrowth of a fungus called Malassezia. The good news is that seborrheic dermatitis is usually not contagious and can be treated with antifungal medications.
You May Shed More Than You Think
Hair loss can be a sign of an underlying health condition, so it's important to pay attention to how much hair you're shedding. If you're losing more than usual, it could be a sign of a serious health problem.
Conditions like thyroid disorders, anemia, and lupus can cause hair loss. If you're losing hair and have any other symptoms of these conditions, see your doctor to get checked out.
Hair loss is a common adverse effect of several drugs. Whether you're losing hair or taking medication, you should ask your doctor if the two are related.
Stress can lead to hair loss, both temporary and long-term. If you're dealing with a lot of stress in your life, it's important to find ways to manage it so that it doesn't take a toll on your health.
What Causes Telogen Effluvium?
Your hair is in a constant cycle of growth and rest. The growth phase, called anagen, can last anywhere from 2 to 8 years. The resting phase, called telogen, lasts about 3 months. Normally, around 85% of your hair is in the anagen (growing) phase at any given time, while 15% is in the telogen (resting) phase.
Telogen effluvium occurs when something disrupts this natural cycle and causes more hairs to enter the resting phase. This can happen for a variety of reasons, including:
Severe stress: Physical or emotional trauma can shock the system and cause widespread hair shedding. This type of telogen effluvium is often temporary, and your hair will usually grow back within 6 to 9 months.
Childbirth: After giving birth, many women experience telogen effluvium as their hormones shift back to pre-pregnancy levels. This type of shedding is also usually temporary, and your hair will typically return to its normal thickness within a few months.
Certain medications: Some drugs can cause hair loss as a side effect, including beta blockers, antidepressants, anticoagulants, and even birth control pills. If you think your medication may be causing telogen effluvium, talk to your doctor about alternative options.
In most cases, telogen effluvium is temporary and not a cause for concern.
An Attack on Hair Follicles
Your hair follicles are the foundation of your hair. They provide structure and support to your hair shafts, and they also produce new hair cells. When your follicles are healthy, your hair is strong and shiny. But when they're damaged, your hair can become brittle and break easily.
There are many things that can damage your follicles, including:
Chemicals: Bleach, perms, and other harsh chemicals can weaken and damage your follicles.
Heat: Hot tools like curling irons and hair dryers can also damage your follicles.
Mechanical stress: Tight hairstyles that pull on your scalp (e.g., ponytails) can cause inflammation and scarring of the follicles.
Medical conditions: Autoimmune diseases like alopecia areata can cause follicle damage, as can certain medications (e.g., chemotherapy).
Genes Cause 90% of Male Hair Loss
It's no secret that hair loss is largely a genetic issue. In fact, genes are responsible for 90% of male hair loss. Androgenetic alopecia, or male pattern baldness, is the most prevalent cause of hair loss, although there are numerous other genetic variables that may contribute to hair thinning and loss. About 50 million men in the US have this disorder, which causes their hairline to recede and their crown hair to thin. 
There are several other potential causes of hair loss in men, including stress, illness, medications, and nutritional deficiencies. But by far, the most common cause is genetics. If you're struggling with hair loss, it's important to talk to your doctor about possible treatments and solutions. There's no cure for hair loss, but there are ways to manage it and slow its progression.
Female-Pattern Baldness
Female-pattern baldness is one of the most common types of hair loss in women. It usually starts with a gradual thinning of the hair on the top of the head. The hair may become thinner all over the head, or it may be only in certain areas. The most common pattern is a receding hairline that forms a "U" shape around the back of the head. Female-pattern baldness is not a disease, but it can affect how you feel about yourself and your appearance.
Avoid Sun Damage to Hair
Sun damage is one of the leading causes of hair loss and scalp problems. Prolonged exposure to the sun can cause the hair follicles to become damaged and the scalp to become dry, irritated and inflamed. The best way to avoid sun damage to hair is to use sunscreen with an SPF of 30 or higher whenever you are going to be outside for more than a few minutes. Be sure to apply sunscreen to your scalp as well as all exposed areas of your skin. You should also wear a hat or other head covering when possible to protect your hair from direct sunlight.
Luscious Locks Need Nutrients
Your hair is a reflection of your overall health, so it's important to pay attention to what it's telling you. If you notice your locks are looking a little lackluster, it could be a sign that you need more nutrients in your diet.
Healthy hair requires a delicate balance of nutrients, including proteins, essential fatty acids, vitamins, and minerals. When one or more of these nutrients is lacking, it can show up in the form of dryness, brittleness, thinning, or excessive shedding.
If you're concerned about your hair health, take a look at your diet and see if you might need to make some changes. Adding foods that are rich in the nutrients mentioned above can help to improve the condition of your hair. You may also want to talk to your doctor about taking a supplement specifically designed for hair health.
A Hair and Heart Healthy Diet
A healthy diet is important for both your hair and your heart. Eating a variety of nutrient-rich foods helps keep your hair strong and your heart healthy.
Include a variety of fruits, vegetables, whole grains, and lean protein in your diet. These foods are packed with nutrients that are essential for good health.
Fruits and vegetables are great sources of vitamins and minerals that help keep your hair healthy. Whole grains contain B vitamins that are essential for cell growth. Lean protein provides the building blocks for strong hair.
In addition to eating a healthy diet, you should also avoid crash diets or extreme weight loss. These can lead to unhealthy hair and an increased risk of heart disease.
Premature Gray Hair Is Genetic
Premature gray hair can be caused by a number of different things, but the most common cause is genetics. If you have premature gray hair, it means that you have a higher level of melanin in your hair follicles than people who don't have premature gray hair. Melanin is the pigment that gives your hair its color, so when you have a higher level of melanin in your hair follicles, your hair will be darker.
Premature gray hair is not something that you can necessarily prevent, but there are some things that you can do to minimize its appearance of it. For example, if you use products that contain peroxide or bleach, they can actually strip the melanin from your hair, making it appear lighter.
There are also some medical conditions that can cause premature gray hair. One of the most common is vitiligo, which is a condition where the body doesn't produce enough melanin. This can result in patches of white skin and white hair on the scalp.
Another condition that can cause premature gray hair is alopecia areata, which is an autoimmune disorder that causes the body to attack the hair follicles. If you have either of these conditions, there's unfortunately not much that you can do to prevent premature gray hair from happening.
Traction Alopecia Damages Follicles
Traction alopecia is a form of mechanical damage to the hair follicle. When the follicle is damaged, it cannot support the growth of healthy hair. The condition is progressive, meaning that if it is not treated, it will get worse over time and may lead to permanent hair loss.
There are several ways to treat traction alopecia. One option is to simply stop wearing tight hairstyles. This may not be possible for some people, however, as they may need to wear their hair in certain styles for work or cultural reasons.
Over styling Weakens Your Hair
When you over-style your hair, you are essentially damaging it. Overbrushing, overwashing, and over-processing can all lead to weak and unhealthy hair. If you style your hair daily or use a lot of heat or chemicals, you are putting your hair at risk for breakage and split ends. In addition, over-styling can strip your hair of its natural oils, leaving it dry and lifeless.
If you notice that your hair is looking dull or damaged, take a break from styling for a few days. Give your hair a chance to recover by letting it air dry and avoiding heat styling tools. You may also want to try using a deep conditioning treatment or hot oil treatment to help hydrate and nourish your strands. By giving your hair a little TLC, you can help restore its strength and vitality.
A Surprising Side Effect
If you thought dandruff was the only issue your scalp could experience, think again. Itchy scalp, oily scalp, dry scalp…the list goes on. And believe it or not, what's going on with your scalp can actually be a reflection of your overall health.
For example, an itchy scalp could be a sign of allergies or even stress. If you're constantly scratching your head, it could be causing inflammation and irritation that could lead to hair loss.
Oily scalps are often caused by overactive sebaceous glands, which produce excess sebum. This can be due to hormonal imbalances, certain medications, or even diet. An oily scalp can also lead to dandruff and other scalp conditions like seborrheic dermatitis.
Dry scalps are usually the result of dehydration or using harsh cleansers that strip away natural oils. This can leave the scalp feeling tight, itchy, and flaky. Dry scalps are also more prone to irritation and inflammation.
So next time you're dealing with a pesky scalp issue, take a step back and consider what else might be going on with your body. Chances are, there's a bigger picture of what's happening on top of your head.
Scalp Massage Feels So Good
Scalp massages definitely feel good, but did you know that they can also be beneficial for your health? That's right – scalp massages can help improve circulation and even promote hair growth.
So, if you're looking for a way to relax and improve your overall health, consider adding a scalp massage to your beauty routine. Your hair and scalp will thank you!
Hair Analysis May Not be Reliable
Hair analysis is not a reliable indicator of health. The composition of hair can vary depending on diet, medication, and other factors. Hair does not necessarily reflect the body's overall mineral content. In addition, hair analysis is not an accurate measure of nutrient status.
Final Thoughts
When it comes to our health, our hair and scalp can be big clues. From dandruff to hair loss, the condition of our hair can say a lot about what's going on inside our bodies.
Hair loss can be normal (we all lose around 100 hairs per day), but it can also be a sign of an underlying medical condition like thyroid disease, anemia, or lupus. If you're concerned about hair loss, consider taking hair transplantation.