A lot of people are born with perfect hair. They never have to worry about going bald or thinning their hair. But for the rest of us, hair loss is a serious concern.
If you're one of the millions of people struggling with hair loss, you've probably considered a hair transplant. But before you go under the knife, you probably have some questions. For example, how long do hair transplants last? Is it a permanent solution?
In this blog post, we'll explore those questions and more. Read on to learn everything you need to know about hair transplants.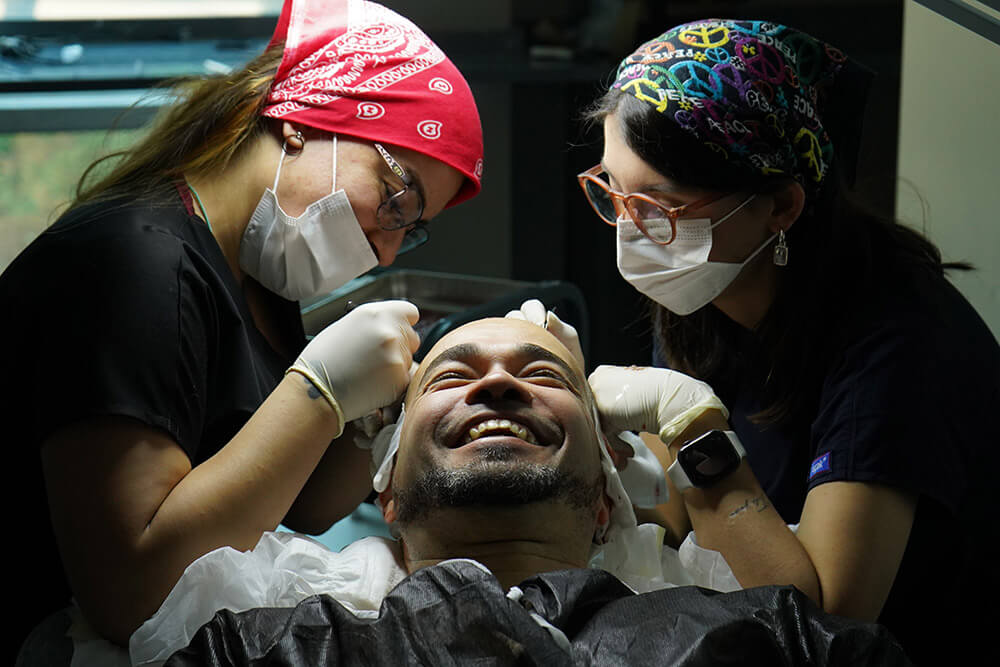 Types of hair Transplantation
Hair transplant procedures may be broken down into a few categories:
·       FUT
The FUT method is the common choice for hair transplants. The surgeon extracts hair follicles from a donor site (often the back of the head), dissects them, and then transplants them to the thinning scalp.
·       FUE
FUE is a newer technique that involves extracting individual follicular units directly from the back of the head without needing to remove a strip of skin. This method is less invasive and can result in quicker healing times, but it is also more expensive.
·       DHI
DHI, or Direct Hair Implantation, as it is called, is a minimally invasive surgical procedure used to treat hair loss. Unlike other hair transplant procedures, DHI does not leave any linear scar on the donor area, and it requires no stitches.
The procedure is performed under local anesthesia and takes about 4-5 hours. During the procedure, the surgeon extracts hair follicles from the donor area and then transplants them into the balding areas of the scalp.
·       PRP Treatment
Platelet-rich plasma (PRP) therapy is a treatment that uses your own blood plasma to stimulate hair growth. Blood plasma is the liquid portion of your blood that contains platelets. Platelets are cells that help with blood clotting and also contain growth factors that can promote healing.
PRP therapy for hair loss involves taking a sample of your blood, processing it to concentrate the platelets, and then injecting it into your scalp. Some studies have shown that PRP therapy can be effective in treating male pattern baldness and other types of hair loss.
·       FUE with Sapphire
Sapphire FUE is a type of hair transplantation that uses sapphire-tipped needles instead of steel needles. The sapphire needles are thinner and cause less trauma to the scalp, which results in quicker healing times and less pain. Sapphire FUE is more expensive than traditional FUE, but it is becoming more popular as the results are better.
Are Hair Transplants Permanent?
Hair transplants are considered a permanent solution to hair loss, but it's important to understand that the results are not immediate. It can take up to 12 months for the transplanted hair to grow fully. Once it does, you can expect it to last a lifetime.
How Long Do Hair Transplants Last?
Many people are under the impression that hair transplants are a one-time solution for hair loss. However, this is not the case. Hair transplants last for as long as you continue to take care of your hair and scalp.
The average lifespan of a hair transplant is about 10 years. However, this can vary depending on a number of factors, such as your age, health, and lifestyle choices. If you are younger and in good health, your hair transplant may last longer. Additionally, if you take good care of your hair and scalp, your hair transplant will last longer.
There are a few things you can do to prolong the life of your hair transplant:
As a first step, try to stay off of tobacco products and drink only in moderation. These practices may be harmful to your hair and scalp, reducing the likelihood of success with a hair transplant.
Second, use gentle shampoo and conditioner on your transplanted hair. Avoid harsh chemicals or heat styling that can damage your transplanted hair.
Third, see your doctor for regular checkups to make sure your transplanted hair is healthy and to catch any problems early on.
By following these tips, you can prolong the life of your hair transplant and enjoy having a full head of hair for many years to come!
Is It Possible That You Could Need Another Hair Transplant?
It is possible that you might need another hair transplant in the future. This is because the transplanted hair follicles can eventually be depleted. Additionally, factors such as age, hormones, and medications can impact the health of your hair follicles and cause them to miniaturize.
If you are considering a hair transplant, be sure to consult with a board-certified dermatologist or plastic surgeon who has experience with this procedure.
What to expect long-term?
Hair transplants are a permanent solution to hair loss, but that doesn't mean your new hair will last forever. Just like the rest of the hair on your body, your transplanted hair will eventually thin out and shed as you get older.
However, because the donor hair used in transplants is not affected by age or hormones, your transplanted hair should last a lifetime.
Hair Transplant Limitations
The hair transplant may not last forever as the transplanted hair is not resistant to balding. The transplanted hair follicles are still susceptible to the same hormones that cause male pattern baldness.
Therefore, if you are genetically predisposed to balding, you will eventually lose the transplanted hair. In addition, the quality of the transplanted hair may decrease over time. The transplanted hair may become thinner and more brittle with age.
Final Verdict: Will Hair Transplants Last Forever?
No, hair transplants will not last forever. However, they can last for many years with proper care and maintenance. The average lifespan of a hair transplant is about 10-15 years, but some people have reported that their transplants last 20 years or more.
There are a few factors that will affect how long your transplant will last, such as the quality of the grafts, the number of grafts used, and the skill of the surgeon. With proper care and maintenance, you can expect your hair transplant to last for many years.